Lee's Marketplace honored for support of people with disabilities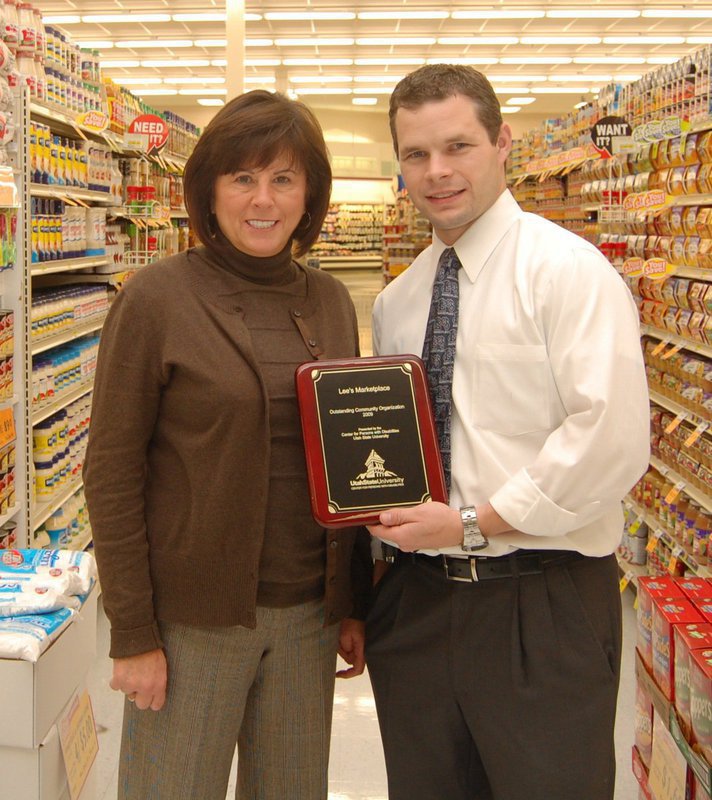 Lee's Marketplace provides a friendly place to work and shop to people with disabilities. "You see it in the front office, you see it in the aisles and you see it in the interactions in the store," said CPD Director Bryce Fifield.
He thanked store officials for years of support earlier this week as he presented Lee's with the Center for Persons with Disabilities' Outstanding Community Organization award for 2009. Jonathan and Shari Badger accepted the award, at the same time recognizing the late store founder Lee Badger for providing a good environment for workers and shoppers with varying abilities. (Shari is Lee's wife, Jonathan is his son.)
As they began hiring people with disabilities, they say the reaction from customers has been overwhelmingly positive.
"You start out thinking you're helping them. It's turned the other way around," Shari said. The store hires workers with disabilities and provides accommodations for customers who may have difficulties shopping. It has also helped the CPD with research, offering a real-world environment where cutting-edge assistive technology for the blind could be field-tested.
USU researchers have sent a robot through the aisles of the Logan store as part of a project to develop a guide that would lead people with disabilities to the products they wanted. The project has since evolved and is now looking for ways to incorporate newer, smaller technology, but Lee's continues to be a favorite test site.