Bobcats harass the Huskies, finish the regular season with near perfect game in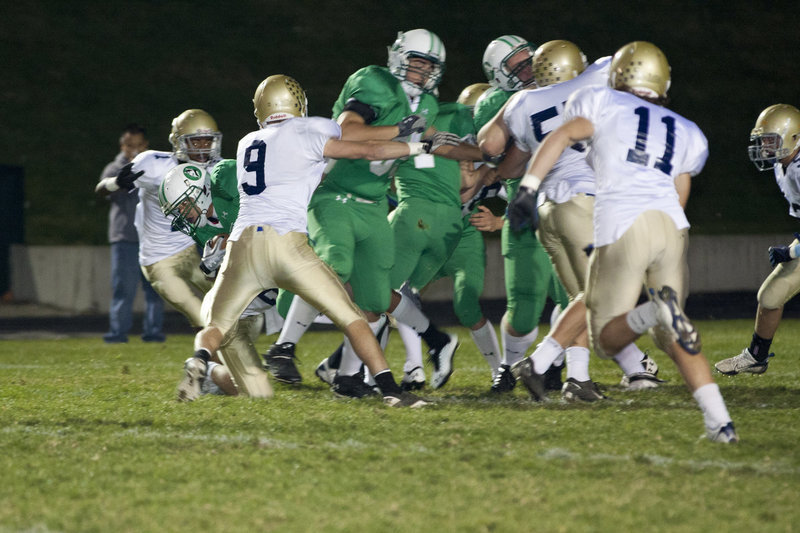 Sky View traveled to Hillcrest High School in Midvale for a mid-week game and got things done on the ground and in the air, Putting up a shutout against the Huskies the Bobcats scored twice on the ground and five times through the air in a 49-0 route. Sky View closed out the season on a positive note heading into next weeks playoff game against Skyline.
Sky View entered the game Wednesday night most likely picked as favored to win against a struggling Hillcrest team. However, I'm not sure the Bobcats were expected to dominate every facet of the game like they did, starting with winning the opening toss. Opting to defer to the second half the Bobcats appeared to have their hands full as the Huskies moved the ball deep into Sky View territory on their opening drive.
Unfortunately Hillcrest, who was celebrating senior night, committed the first of several turnovers. The drive came to an abrupt end when senior defensive back, Corbin Lee intercepted the Huskies pass. From that point forward the rest of the game pretty much belonged to the Bobcats who seemed to be able to move the ball at will, and scored almost as often as they got the ball.
The Bobcats who got off to a bit of a slow start, got rolling with 3:56 in the first quarter when senior quarterback Nick Carver hit Nate Payne over the middle on a 20 yard touchdown pass. After senior kicker Josh Egbert added the extra point the Bobcats put the only points on the board as the quarter closed with Sky View up 7-0.
The Bobcats shifted into overdrive in the second quarter as Carver connected on three touchdowns. Having set themselves up ready to score with just six seconds off the clock Carver tossed a 9 yard touchdown to senior running back Alex Watts.
With just under five more minutes having ticked off the game clock, Carver found his favorite receiver of the night when he once again hooked up with Payne for a 2 yard score. After moving the ball down to the one yard line Caver handed off to Watts who finished off the drive grinding his way into the end zone.
With only thirty five seconds left the Bobcats put an exclamation point on the second quarter when Carver once again found Payne over the middle this time from 11 yards out. Josh Egbert would go on to be perfect on the night. Putting up 7 points of his own during the game Egbert added an extra point after each of the second quarter scores and when the buzzer sounded Sky View climbed out of the stadium and headed to the locker room with a 35 point cushion.
Head coach Craig Anhder said, "I thought our special teams played well tonight starting with Josh, he was money. All his kicks were solid, his PAT's were right down the middle. That just gives you a lot of confidence when you've got a kicker that can put that through the uprights so consistently as he does."
When the Bobcats came back out for the third quarter they continued to pound nails into the coffin of the Huskies. With 8:48 on the clock in the third Carver found pay dirt on a keeper from 3 yards out. With a healthy lead Anhder began substituting players and many new faces got to take the field. Payne who got to spend more time in the trenches wasn't done with his job, he found the end zone one last time on a 63 yard Braxton Godderidge pass.
The two Egbert extra points would polish off a steller Sky View performance closing out the third quarter up by 49. Sky View quarterbacks were accurate and productive. Carver went 9-for-13, passing for 107 yards, and four touchdowns. Godderidge was a perfect 2-for-2, throwing a touchdown, on 96 yards passing. Payne finished in the top spot among receivers racking up an impressive 108 yards on 5 catches, scoring 4 touchdowns.
Senior receiver Corey Jensen had 3 catches for 44 yards. Mitch Berryhill had a catch for 33 yards, while Alex Watts and Brandon Burger each had a catch for 9 and 8 yards respectively. Watts' catch was a touchdown grab.
When asked how he was able to get open for his four scores Payne attributed his success to the running of "crisp routes." Payne said of Sky View's success, "We've watched a lot of film, we've adjusted, and we ran our routes according to that. We were able to get open and it worked."
Anhder was pleased with the Cats passing attack, "Boy it was Nate Payne's night. It was kind of funny how that worked out, you know we called the same routes that we always call and they just left him all alone. Nick [Carver] was doing a great job of reading it and delivering the ball on time and on target, and Nate Payne capitalized on those."
It was running back by committee for the Bobcats with Watts shouldering a big portion of the load. Watts had 13 carries for 78 yards and a rushing touchdown. Carver pounded out 76 yards on 8 keepers and a touchdown. Skyler Hunt and Drake Oldham shared the wealth in Sky View's ground game. Oldham picked up 27 yards on 7 carries while Hunt racked up 26 yards on 7 carries. Corey Jensen had 9 yards on the ground with his single carry. Of the running game Anhder said, "Well we really came out tonight and wanted to establish that especially in the second half. I felt really good about how our offensive line opened up holes. Our quarterback was able to read the option and we were able to get some good positive yards off of that."
The Bobcats picked up 21 first downs while limiting the Huskies to 7. 
Offensively Sky View amassed 206 yards on the ground and another 216 through the air for a total of 422 yards of offense. As productive as they were on offense the Bobcats defense was just as stingy with what they were willing to give up.
The defense held Hillcrest to just 56 rushing yards, and 62 receiving yards, for a total offensive night of a mere 118 yards. Anhder liked what he saw on the defensive side of the ball, "I was really pleased with our defense and the way they played, especially stopping the run game. That seemed to be the strongest suit for Hillcrest, and we shut that down. Really they only had two pass plays of any substance and so that's a very productive night for our defense to hold them down like that. What that does is give our offense great field position, and allows them to operate with a lot of momentum."
Garth Jolley led the defense with 10 tackles, 4 of which were solos, and had 6 assists. Jolley also sacked the quarterback for a 7 yard loss. Other big tacklers were Ethan Dursteller who had 3 solos and 5 assists. Conner Chambers tallied up 2 solos and 3 assists. Tyler Stephens had a solo tackle and 4 assists.
Tre Hansen also added a sack for a 1 yard loss to his 4 tackles, 2 of which were solos. If there was a dim spot in the game it would have been in the area of penalties. Sky View tacklers got a bit aggressive on one play with a tackle that was a couple of yards out of bounds.
Other penalties may have been the result of retaliation for some of the frustration being expressed by Hillcrest players who were most likely less than satisfied with their performance on the Huskies senior night. The Bobcats penalties amounted to 111 yards on 11 flags.
The victory should boost the confidence of Sky View who finishes the regular season at 5-5-0 overall with a Region 5 record of 3-2-0. Sky view finished the season tied for second in Region 5 play with valley rival Mountain Crest. The Mustangs completed their season with a record of 6-4-0 (3-2-0 Region). Valley teams captured the top three spots as the Logan Gizzlies finished a perfect 10-0-0 overall (5-0-0 Region).
Postseason play begins next week with a good bunch of opponents for the valley teams. Sky View will take their team on the road to match up against the number 2 team from Region 7, in Sky Line High School. That game is scheduled for Friday, October 28th with an early kickoff scheduled for 3:30 p.m.
Mountain Crest will hit the road to take on Region 7's number 3 team from Westlake High School. Logan is slated to play either Region 7's number 4 team from Herriman High School, or the number 5 team from Region 8, Springville High School.