Difficult game as Bobcats lose top seed to rival Mustangs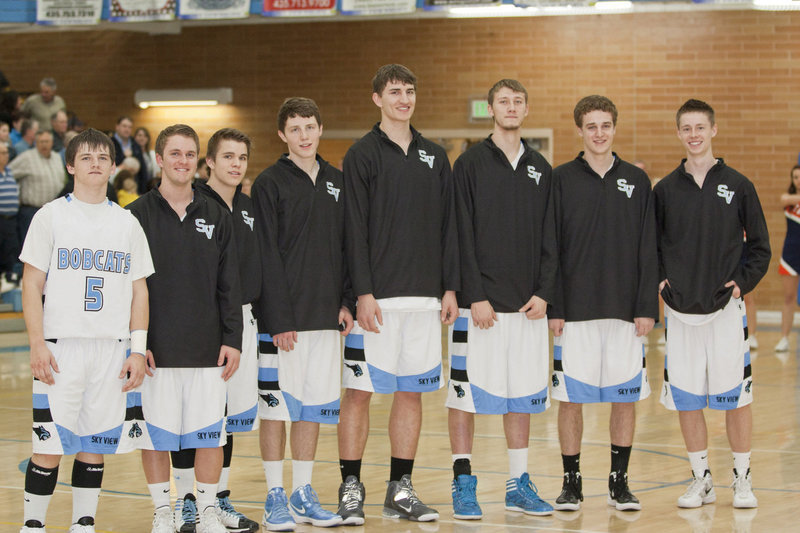 SMITHFIELD – Junior guard Faimafili Laulu-Pututau had 19 points as Mountain Crest beat Sky View 48-35, Wednesday to lock up the Region 5 No. 1 seed for the state tournament.
Pututau led the Mustangs on offense with 10 first half points.
"(Pututau) is a special player," Mountain Crest head coach Graydon Buchmiller said. "He had success down low or up high. When he's going and got rhythm with the right matchup, we just let him go to work."
Down 8-7 after the first quarter, it was all Mustangs in the second. Mountain Crest went on a 13-2 run to end the half 20-10 and Sky View didn't score in the second quarter until Bobcat junior Jalen Moore hit a baseline jumper with under three minutes to go in the half.
"We just didn't have our heads in the game," said Moore, who finished with a team-high 10 points. "We struggled on offense today, which was kind of a first of the season."
SVHS senior guard Dallen Godfrey had five straight points to spark a Bobcat run in the third quarter to get within 28-23, but it wasn't enough to get the victory and Mountain Crest pulled off the win 48-35.
"We were 0-9 from the 3-point line in the first half," Sky View head coach Kirk Hillyard said. "Dallen made our only three there in the second half. I think we were relying too much on our jumper."
Hillyard said his team struggled on offense.
"(Mountain Crest) did some things defensively that our guys had a hard time adjusting to," Hillyard said. "In rivalry games and close games like that at the end of the season you've got to bring it for four quarters and I don't think we did that tonight."
Senior center Casey Oliverson had four first-half blocks to help the Bobcats stay in the game, but the big man was made ineffective by the Mustang defense.
"We knew how good of a player he was," Pututau said. "We really focused on shutting him down."
All of Oliverson's eight points came in the second half.
Moore said it hurt more than normal to lose a Cache Valley rivalry game with state tournament implications.
"We wanted to come out with the win," Moore said. "I think we'll be fine with a second seed. I think we can beat some teams and make a run."
With the win, Mountain Crest improves to 13-7, 7-3 in region and will face Hillcrest (11-10) in the first round of the state tournament Feb. 27 at 11:10 a.m. Sky View drops to 16-5, 7-3 and will face Skyline (15-6) at 4:10 p.m. the same day.