Bands close concert together with tribute to veterans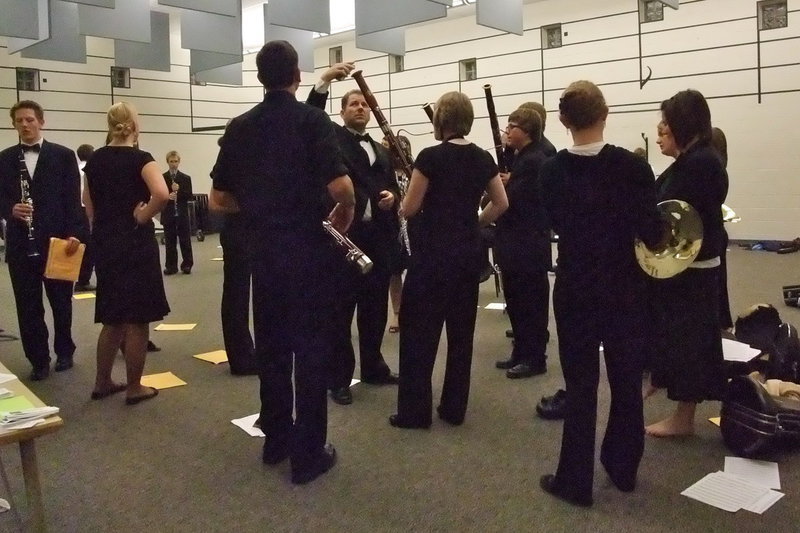 Cartoons and classics, movies and patriotism shared the stage Thursday night as the Sky View Concert Band and Symphonic Band performed for a large audience. Each band played two songs and then combined together to perform two songs in honor of Veterans Day.
The Concert Band began the night with Jubilant Tribute by Barry Kopetz. It's catchy song with syncopated rhythm. They followed with Cartoon Symphony arranged by Larry Clark. It was a great mashup of Looney Tunes, Flinstones, Jetsons, Simpsons, Animaniacs and more favorite cartoon themes.
Then first swap as the Concert Band exited the stage and changed places with the Symphonic Band who were all sitting in the audience — instruments in hand — waiting for their turn. After a lot of chair shuffling the Symphonic Band began with Farandole by George Bizet. According to Wikipedia, "The farandole is an open-chain community dance popular in the County of Nice, France."
Their second song was Young Person's Guide to John Williams as arranged by Jay Bobcook. It included themes from Harry Potter, E.T., Indiana Jones and more.
It was time for one more big switch. Randall Beach, the Sky View Band Director, explained that on Wednesday "the band performed two numbers on the [veterans] program, all together, the Symphonic Band and Concert Band combined. We really want to share those two numbers with you this evening. Which requires us to see if we can fit everyone on the stage — which is going to be a bit of a feat."
They did it and Beach introduced the two numbers. The first was Salute To America's Finest arranged by Paul Lavender. "It is a collection of all the songs from each branch of the military — the Army, the Navy, the Coast Guard, the Marines and the Air Force," said Beach. "Yesterday we were able to play this selection and honor veterans attending that served in each of the branches of those military units."
"A lot of students commented that we play this similar song in our parade in the summer," he continued. "They said, 'You know, when it's associated with the parade, I don't know that I really like this song very much. But yesterday [at the veterans program] that was fun to play.'"
"And it really was, they did a great job, it was a lot of fun playing — to honor those veterans."
Their second song was an arrangement by Jack Bullock of America The Beautiful. "We really had a wonderful experience at [the veterans] assembly," said Beach. "Hopefully we can share a little of that with you and inspire you to contemplate a little about the incredible country we live in, the freedoms we enjoy, and what a great blessing it is to be here."
The bands did a wonderful job and you can listen to some of their songs in the links below. Too soon, the bands finished both numbers to loud applause and shouts from the audience.
Randall Beach started teaching at Sky View in January of this year. As USU graduate who left Cache Valley 20-years ago, he said they jumped at the opportunity to come back. "We're real excited to be here," he exclaimed. "We love it here. The students are wonderful, the administration is wonderful, the parents and families are fabulous. It's a really great place."
Sky View Symphonic Band
Flute
Ashleigh Krebs∗
Jessica Murdock
Alyson Murray
Sarah Wood

Oboe
Josh Blotter∗

Bassoon
Wyatt Clegg∗
Julia Johnson

Clarinet
Lindsey Allen
Ben Bowen
Kenya Brown
Cassidy Craig
Niki Hopkins∗
Jaren Idso
Hannah Young

Bass Clarinet
Stephanie Redford∗

Alto Saxophone
Alex Batty∗
RachaelJohnson

Tenor Saxophone
Michael Larson∗

Baritone Saxophone
Mark Veeder∗

Trumpet
Tyler Davis
Chris Luthy
Taesha Morgan
Matt Orme∗
Nathan Ricks
Beka Staheli

French Horn
Joanna Daines
Kathryn Hanks∗
Natalie Wheeler

Trombone
Brenden Adams
Liz Johnson
Brandon Pedersen∗
Julian Stoesser

Euphonium
Danica Stott∗
Karlee Ulrich

Tuba
Josh Shoemaker∗

Percussion
Jordan Anderson
Mckay Anhder
Emily Ashcroft∗
Jared Bennett
Jeff Chipman
Joseph Day
Amielyn Evans
Zach Green
Tyler Lemon
Linda Walker
Sky View Concert Band
Flute
Chantel Benson
Samantha Cardon
Braidee Drake∗
Camille George
Kierra Gibbons
Danielle Hyer
Kendra Karren
Nickie Nelson
Shannon Peterson

Bassoon
Jake Howard∗
Philip Olson

Clarinet
Diana Huffman
Dakota Neagle∗
Weyland Phelps

Alto Saxophone
Nathan Day
Keith Hardy
Tanner Shoemaker∗

Trumpet
Taylor Anderson
Tino Chandler
Samuel Johnson
Andrea Krebs
Mindy Maughan
Joesph Orr
Cory Wilson

French Horn
Cassandra Drollinger
Kade Esplin

Trombone
Christopher Olsen∗
Josh Smith

Euphonium
Dawna Allen∗
Tanner Andreasen
Scott Ramboz

Tuba
Skyler Barrus∗

Percussion
Calissa Beach
David Bennett
Cody Bolan
Kyle Brown
Aaron Chertkow
Alex Chesley
Jake Howard
Kate Larson∗
Brendon Manning
Stacie Poulsen
Garison Robison
Devin Seamons
Peter Zenovieff
∗ Principle Chair
Concert Excerpts