Sky View High School Presents: Oklahoma!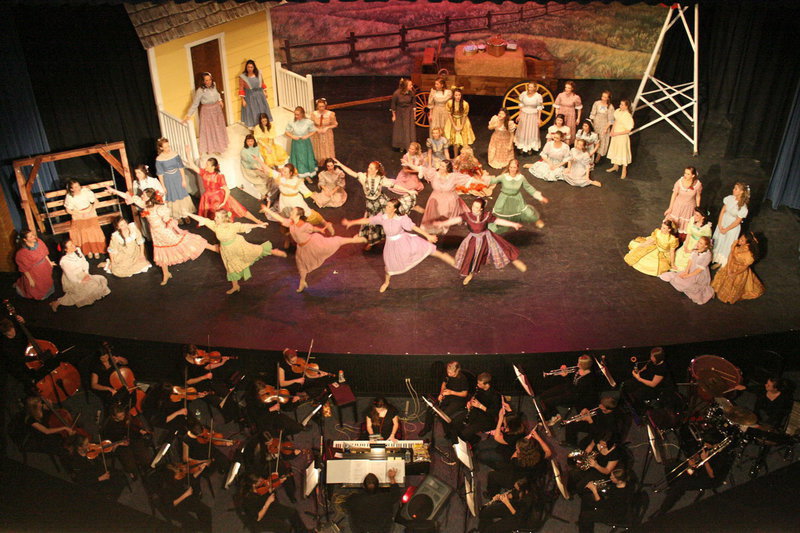 Sky View High School's auditorium was filled the nights of February 3-6 and 8th as the drama department presented Oklahoma. 70 cast members along with the entire sound and light crew were able to make this possible after three months of hard work.
Auditions were held in the middle of November for the 13 speaking parts. Anyone who did not receive one of these parts was able to be part of the ensemble. Performers were enrolled in the first hour Musical class for the entirety of second trimester.
During the Musical class students memorized their lines, practiced the dances, and brushed up on their acting. There were also early mornings and after school rehearsals for the performers. When asked about the early mornings McKenna Partridge, 10th, replied, "There were too many to count and we had to wake up really early in the morning, but without them the show wouldn't have been such a success."
Nicki Freedman, 12th, summarized the plot of Oklahoma as, "Curly and Laurie are in love, but Judd is also in love with Laurie and wants to be with her. After Laurie and Curly's wedding Jud and Curly get in a fight that ends up with Jud running into a knife and dying." The musical contained two story lines: The romance of Laurie and Curly and the secondary romance of flirtatious Ado Annie and her long-suffering fiance Will Parker.
Curly McLain was played by Josh Hilton, Laurey Williams by Marissa Olsen, Kensi Miglori as Ado Annie, Will Sorensen as Will Parker, and Jerimiah Bowen as Jud Fry.
Overall the musical was a huge success. The performance of Oklahoma was able to raise money for the Drama Department and give the students an opportunity in producing and acting in a live performance. Watch out for the Three Act Plays coming in May.
Cast
Aunt Eller … Marisa Allen
Curly McLain … Josh Hilton
Laurey Williams … Marissa Olson
Ike Skidmore … Tayler Jensen
Fred … Nathan Johnson
Slim … Dillan Bennett
Will Parker … Will Sorensen
Jud Fry … Jeremiah Bowen
Ado Annie Carnes … Kensie Migliori
Ali Hakim … Colton Iverson
Gertie Cummings … Morgan Flandro
Ellen … Cami Trappett
Vivienne … sarah sidwell
Kate … McKinzie Moore
Sylvie … Kelby Partridge
Armina … Taylor Valdez
Aggie … Kenzie Hansen
Faye … Azure Kline
Virginia … Jordan Petersen
Joan … Anney Haws
Andrew Carnes … Jacob Thomas
Cord Elam … Grant Fuller
Jess … Max benson
Chalmers … Tyler Jones
Mike … Michael Huber
Joe … Avery Sims
Sam … Boone Hansen
Dream Laurie Williams … Taylor Valdez
Dream Curly McLain … Nathan Johnson
Ensemble
Sharlee Andrew
Natalie Benson
Melanie Buchanan
Breanna Clarke
Christina Flaspoehler
Noelle Flint
Nicki Freeman
Paige Godwin
Keri Hansen
Janessa Higbee
Whitney Hougaard
Madison Huber
Bailee Huskinson
Kenzi Huskinson
Jason Ibanez
Jessica Jarvis
Morgan Jenkins
Katie King
Skylar Little
Shellie Lusk
Karissa Maughan
Kylee Merri
Jamille parks
McKenna Partridge
Bryce Peterson
Jordin Petersen
Melinda Potts
Taylor Regen
Alexys Shauers
Emily Shirley
Tracy Soto
Shaylie Stewart
Abrianne Storey
Danica Stott
nana Taghiyeza
Kassi Thain
Corey Warren
Serena von Niederhausern
Brock Wilson
Heather Wood
Accompanist: Katherine Golightly